WARNING:

The four steps revealed in this post are the basis to affiliate success but they are a massive simplification of the finer details of campaign optimisation and do not guarantee profit…just saying…there ain't no such thing as a free lunch! I always recommend budgeting for at least 3 months experimentation and sticking with it.

Hello there,

I hope you're having a great day…

but either way, I'm about to make it a whole lot better.

I've decided to show you exactly how, in 4 simple steps, you can launch profitable native advertising campaigns (yes it is that easy!)….and I'm going to demonstrate it with a case study I found today in under 60 seconds  useing Native Ad Buzz .

Disclaimer: Currently many (but not all) examples of the basic native ad business models promote health care products such as poor vision or diabetes e-books. I personally don't run these as I feel the products are often poorly researched and prey on desperate and potentially vulnerable people. This being said they are profitable and some people don't see a moral dilemma. Either way if a campaign is converting then something is working which makes it worth analysing.
The Simple Steps
Find a successful Campaign
Rip the ad (and lander if there is one)
Find the particular affiliate offer or a similar one
Launch the campaign
#1 Find a successful affiliate Campaign
Performing a basic search of adverts on Native Ad Buzz, we can find the top performing campaigns. We can also search by keyword for clickbank (to find basic campaigns for products on clickbank) or for known evergreen affiliate markets such as binary options, or healthcare concerns like weight loss, poor eyesight and hair loss.
From the images you can see I did a basic keyword search for "clickbank", filtered by "date last seen". My goal was to find a strong, current campaign.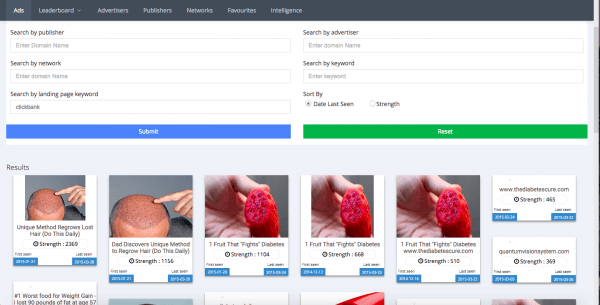 Drilling down into the first result, which is a hair loss product, I can see the ad has been running for more than 2 months and has a good strength score, indicating it has been seen a lot. These suggest good performance, as a savy marketer would not be running an unprofitable campaign for that length of time. The fact that it has been seen often also suggests a fair bit of marketing spend.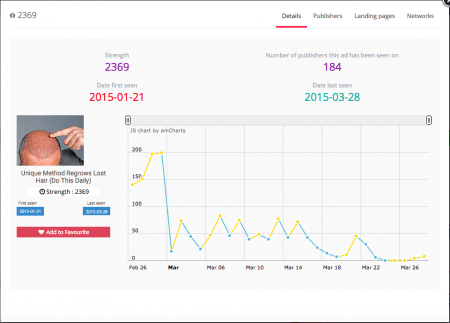 Hair loss is a common problem and afflicted people are often highly motivated to take action, making it an evergreen market. All these indicators suggest a profitable campaign, so lets run with it.
#2 Copy the Ad (and Lander if there is one)
Copying the add could not be easier. Right click over the ad image in native ad buzz and save as, and simply note down the ad headline. In Native Ad Buzz you can even save to your favourites library for easy future access. If you would like to add your own spin search for a similar image and try your own take on the headline.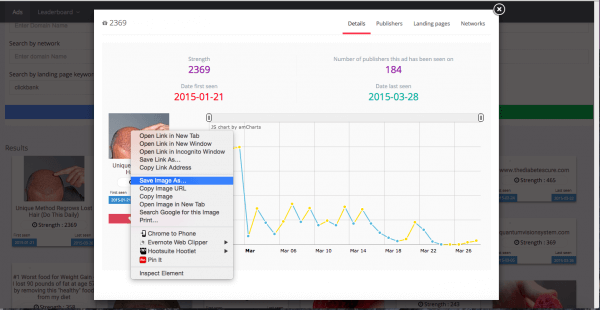 Using native ad buzz we can also find the landing page url for the ad. In this case there are quite a few, but a quick search shows they are all very similar.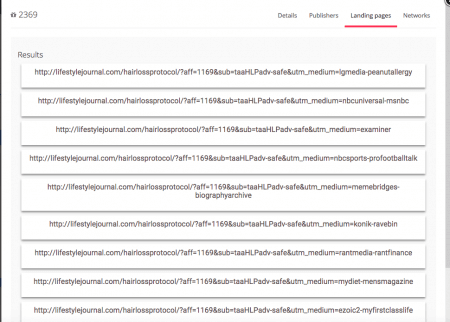 I have selected the first landing page, it's a simple single page lander with a fake-out video image. Clicking the video simply redirects you to the affiliate offer.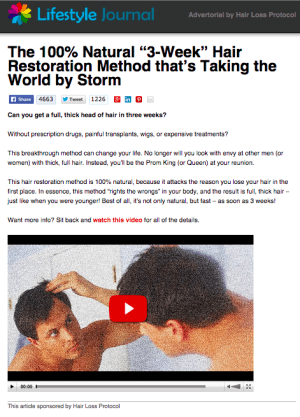 You can directly copy the page by right clicking and saving in your browser. If you have the skills to build a flat webpage all you need to do is purchase a domain and create it. If not, you can outsource the task cheaply on elance, fiverr, or freelancer. I'm not a fan of direct ripping because I like to add my own spin and improve on things through testing.
#3 Find the particular affiliate offer or a similar one
Visit your affiliate network and search for the same or a similar offer to run. In this instance you could easily find the same offer on Clickbank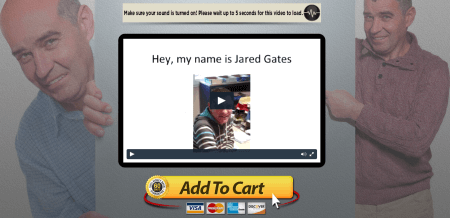 Create your affiliate link and add it to your lander.
#4 launch the campaign
Run the campaign on the ad networks your are signed up with, or discover which ad networks this campaign is running on and use them. In Native Ad Buzz I can quickly see this campaign is running on taboola and adblade.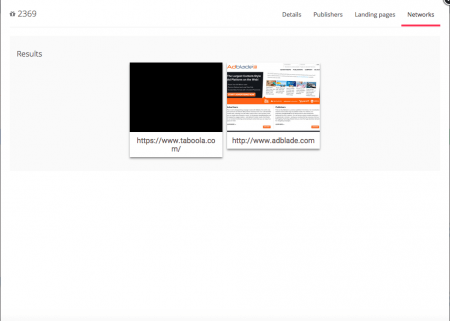 BOOM!!!
It really is that simple!
In total, about 2 hours easy work, taking advantage of another marketers expensive and time consuming experimentation, to launch an immediately successful native advertising campaign.
The basic business model we have covered here is common in native advertising at the moment as it is a quick way to make easy money. It won't be around for much longer as publishers and ad networks begin to demand better quality offers and content. Now is the time to get in on this action before restriction.
What's Next
There are many, more sophisticated business models which can be uncovered with Native Ad Buzz. They generally result in a greater return on investment, but they also require far more effort. I'll discuss these business models in another article soon as they deserve full analysis.
If you haven't already, take advantage of Native Ad Buzz 7 day, $7 trial today and begin setting up your own low effort max gain campaigns today.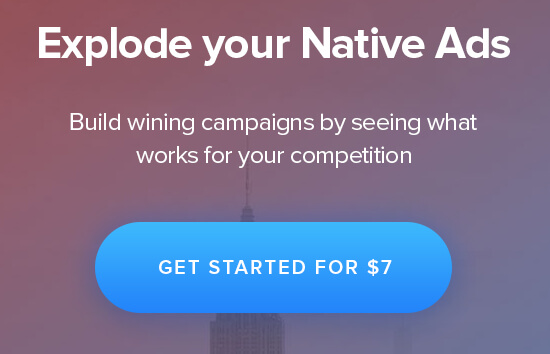 If you missed any of the value in this article read it through again to see exactly how easy it is with the right tools.
Thanks for reading and I look forward to catching up next time
Updated 10-09-2020