The 60 Second native Ad Checklist was specifically designed to be your quick reference guide to avoiding the big 5 mistakes that kill most native ad campaigns and following the top 3 tips to create world class native ad content.
What follows
The

Big 5 Mistakes

That

Kill

Most Native Ad campaigns
The

Top 3 Tips

For World Class Native Ad Content

60 Second

Native Ad Checklist
But first:
Want To Know Whats Hot Right Now In Native Advertising?
 
The Big 5 Mistakes That Kill Most Native Advertising Campaigns
Mistake #1:

 Vague valueless headline provides no reason to be interested
Solution: Use a headline which describes the benefit to come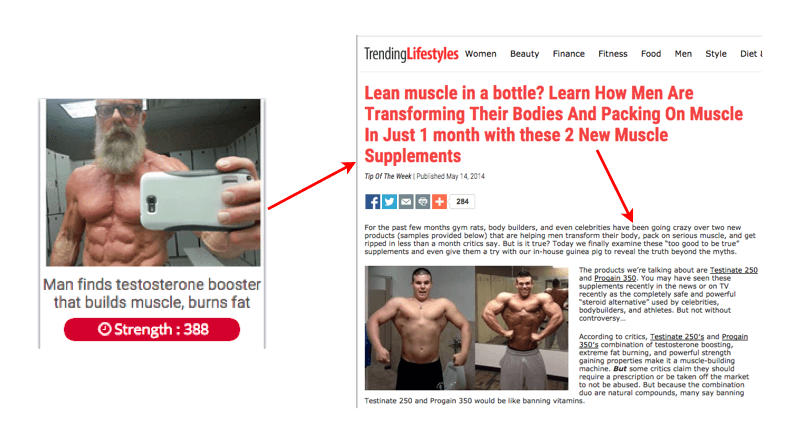 An accurate headline will also help ad platforms place your ad on the most relevant publisher sites
Mistake #2:

 Boring Ad image which doesn't catch attention
Solution: Use evocative images or ones that appeal to your demographic.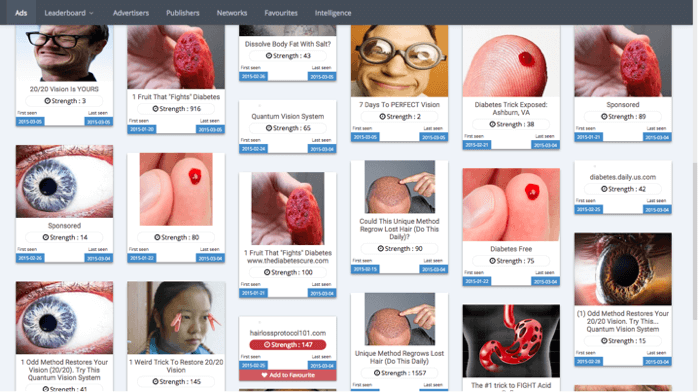 The image draws attention, the title engages. Images of celebrities and peoples faces can work really well. Use Native Ad Buzz to find the best performing images in your niche.
Mistake #3:

 Image inconsistency between Ad and content page causes viewer friction
Solution: Consistency creates a seamless user experience which is key in native advertising as users make the transition from a publisher's content to yours.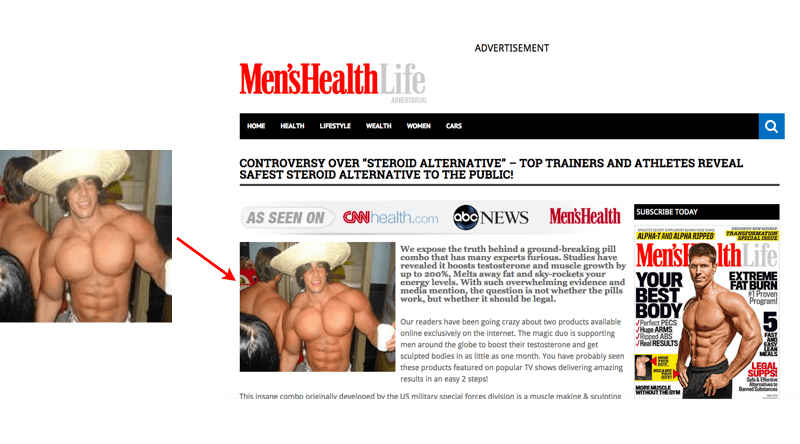 Mistake #4:

 Ad leads to a squeeze or sales page that provides no value Use a content page that offers value
Solution: Viewers are expecting to stay on the publishers content and see a published article which contains some form of value. An article or blog post often work best.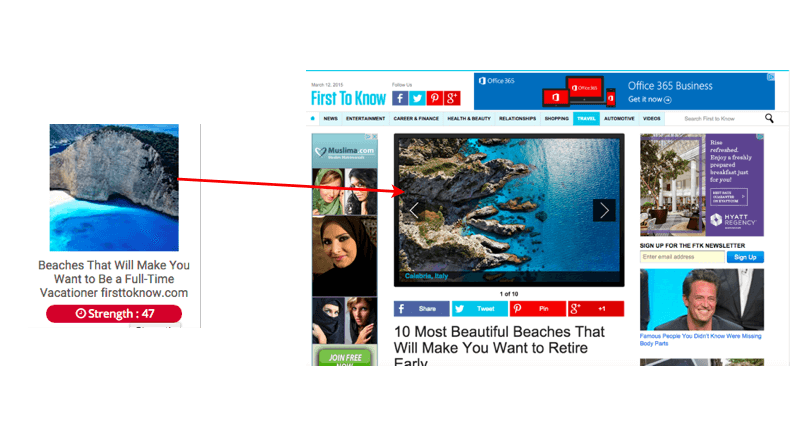 Keep people interested and engaged and your content will be shared and go viral! But REMEMBER A SOCIAL SHARING WIDGET.
Mistake #5:

 Landing page purpose is confused with multiple or unclear calls to action
Solution: Have only 1 purpose or desired action per pageHave only 1 purpose or desired action per page.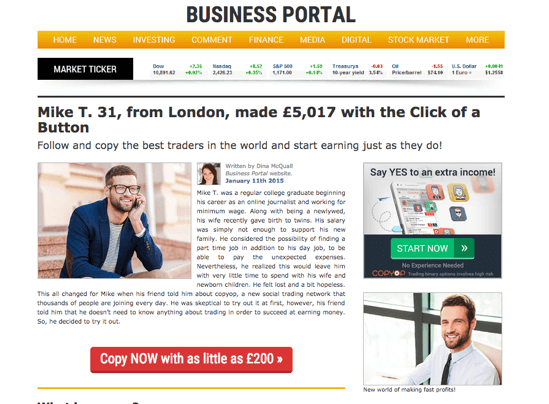 Be clear on the purpose or action you desire before creating the call to action and content. You can be subtle if you choose.
Top 3 Tips for World Class Native Ad Content
Top tip #1:

Start at the end and finish at the beginning. Do It All Backwards (This is worth at least $10,000)
Plan and complete your page in the following order:
Choose business model (uncover the best native business models in minutes)
Choose purpose of page (to sign up, to buy, to read more etc…)
Choose call to action (buy now, download now, get your…)
What incomplete benefit can you provide to readers?
Choose a catchy, relevant and specific headline (see the headline generating tool for ideas)
Pick an evocative image that's attractive to your target audience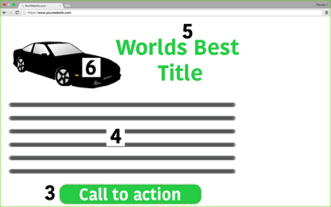 Top Tip #2:

 Provide Awesome Value But Be Incomplete
Be useful to your viewers whilst also enhancing the value of your offer. For example, a tasty recipe to promote a full cookbook, or cooking course: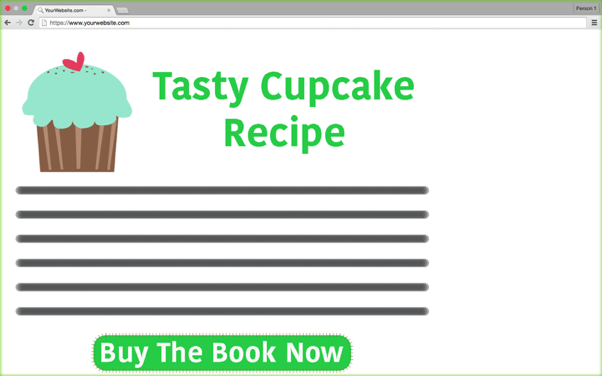 Top Tip #3:

 Testing Is King!
Split Test everything! No matter how great your ads and content are, they can always be improved. Want a head start?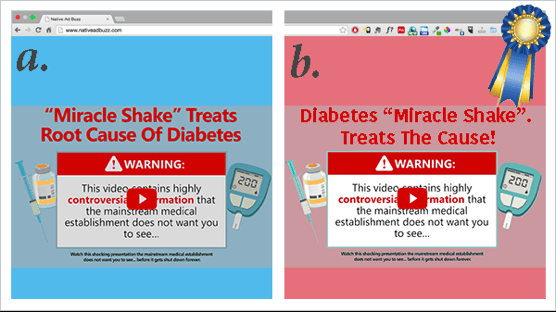 Native Ad Buzz can show you the best performing products, pages, viral content, business models and ads online right now. This means you can learn from the best and skip weeks of testing and literally thousands of dollars of experiments, to launch immediately profitable campaigns.
60 Second Native Ad Checklist
Tick off the following in order to create world class native ad campaigns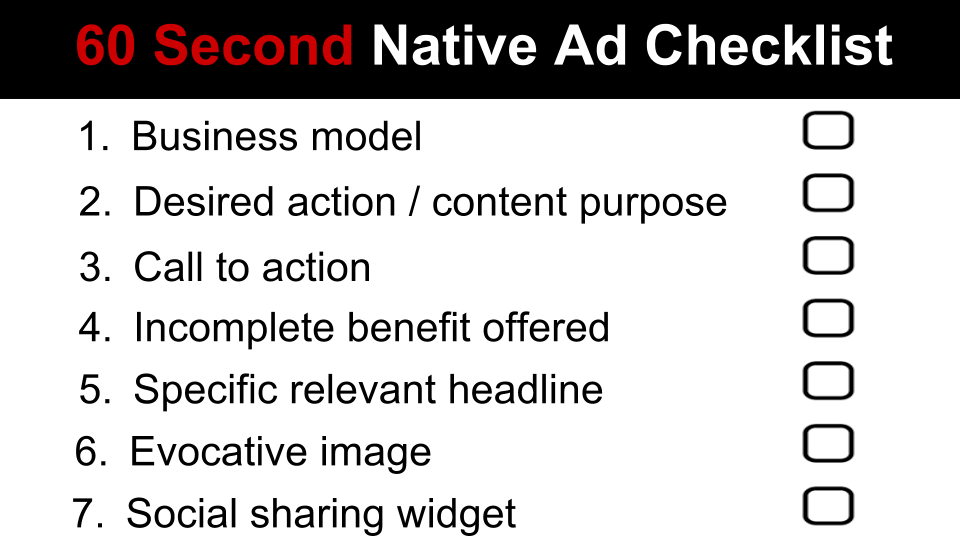 just one more thing…
Want To Know Whats Hot Right Now in Native Advertising?