Today we're happy to announce that Native Ad Buzz is speaking in tongues, we have gone multilingual!!
We have added a new language filter product that should have you jumping for joy!
Sign up to NativeAdBuzz to check it out
This is an exciting release for all of us because it allows you to better understand what kinds of native ads are working for audiences who speak German, Italian, Portuguese, Dutch, Spanish, Turkish, English and French.
This is more than just filtering native ads by geolocation (which is a separate feature of NativeAdBuzz).
Language filtering is often a better tool to use than geo filtering, because you can filter away the native ads that are being shown in the languages you don't want to see.
A lot of native ads shown in France, Spain, Brazil and other major countries are still being shown in English. When you're targeting these major markets, you probably don't want to see or use these English language native ads. You want to know what's working in the languages that are actually being spoken in these territories.
This new Language filter also enables you to visualize what's working around the globe in your languages of choice. It's gives you a bird's-eye view of everything that's working in the native advertising universe across the different countries – but only in the specific languages you're interested in.
Lets not forget the world is becoming evermore internationalized, as people are constantly on the move. Analyzing what's working in the Spanish language could allow you to more accurately target the growing Spanish-speaking population in the USA and with native ad networks like Revcontent providing Language Targeting, well, I'm sure you can connect the dots….
You can find the best performing ads in a language, and then target only the readers of that language in any country!!!!
Surgeons perform heart surgery on a daily basis with less accuracy than this!
So let's break it down…
Our Language Filter Helps Native Ad Affiliates
Let's imagine for a moment that you only want to set a geo target without using a language filter on NativeAdBuzz.
Maybe you want to know what kinds of viral native ads are being shown in Germany, so you set your NativeAdBuzz "Country" filter setting to "Germany,"
But, you also decide to leave your "Language" filter set to the default "All" position.
This means that you'll be searching for ALL native ads being shown in Germany, regardless of the language.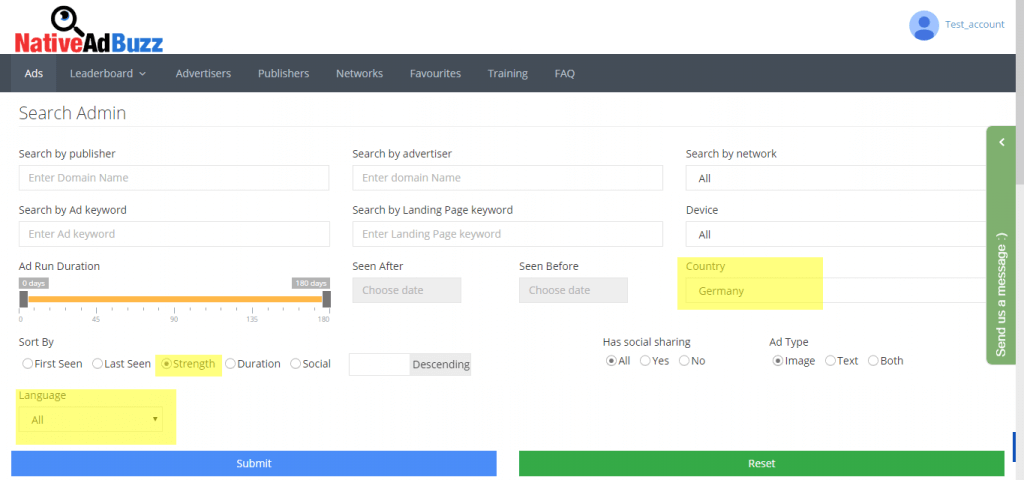 After hitting the "Submit" button, your results may surprise you…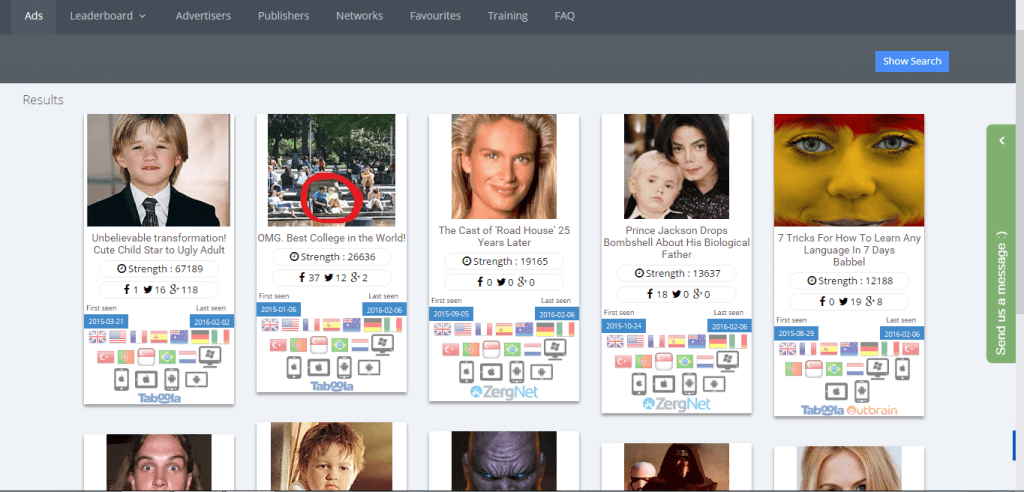 Without using a Language filter…you'll see that many of the viral native advertisements being shown in Germany are still written in English. These native ads are probably still effective, since German audiences speak excellent English. However, you just won't know which native ads are really compelling Germans on a personal, deep-down and emotional level until you see what kinds of native ads are going viral in the German language.
So, let's say that you decide to flip the script. You try setting your NativeAdBuzz language filter to "German" while leaving your "Country" filter in the "All" position.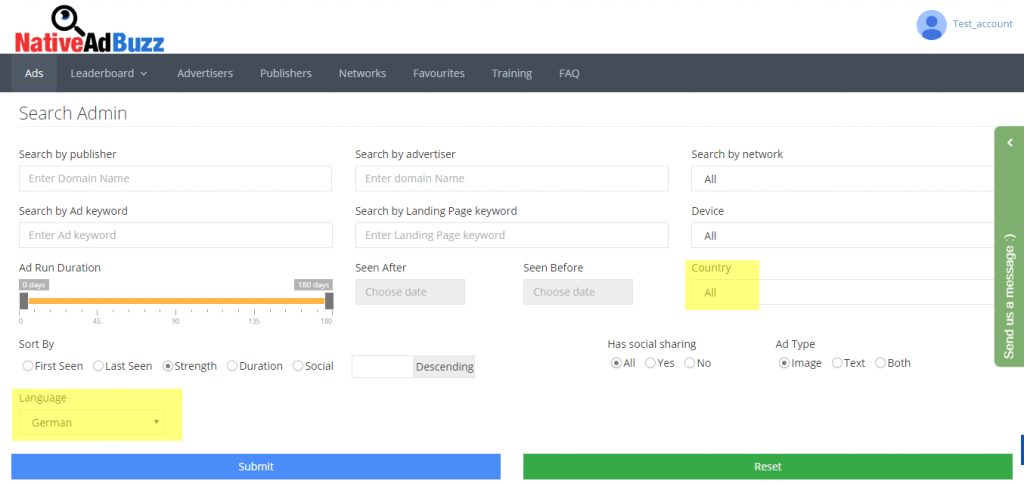 After setting your Language filter to "German," you immediately notice that many affiliate products are successfully being sold to German audiences using German ad copy (rather than the English ad copy as shown before).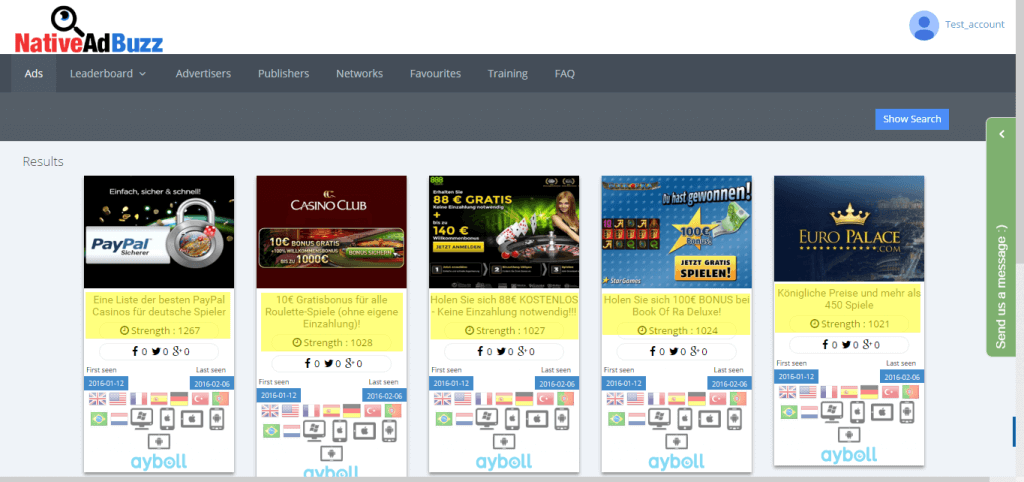 Germans are seemingly whipping out their wallets more often for native affiliate offers that are written in their native tongue. This might seem like a no brainer now that you think about it. But, you might not realize which languages are most effective for targeting certain audiences (like Germans who gamble) until you use NativeAdBuzz's Language filter to test what's already working!
In this way, NativeAdBuzz helps you discover ways to ease buyer friction, give more value to your viewers, and build greater trust with your target audience.
Native ad affiliates now have a neatly organized "cheat sheet" that shows you exactly which products are being sold in practically any popular language.
Combine this with access to the full Native Ad Buzz database where you can find the exact landing pages of the best native affiliate campaigns working across the globe, as well as the publishers, native ad networks and social impact scores for every native advertisement that our bots scrape every day, and you have the winning formula for success!
Our Language Filter Helps Native Ad Arbitrage
Similar to how our Language filter helps affiliates, it also greatly helps those doing native ad arbitrage.
By being able to see viral native content written in the exact language that you're searching for, you'll have a much better idea of how to connect and interact with your target audience of choice.
You no longer have to work around native ads written in languages that are of no use to you.
Just set your Language filter to whichever language you'd like to see, and you'll be presented with more accurate and relevant native ad results than ever before…
For example, there is a major market for French native advertisements. The French-speaking audience has created the second largest international market for native advertisements, right after English. This trend could change in the future, as Spanish or even Portuguese comes to speed in the native advertising world, but as of now, filtering for French native content is a massive opportunity..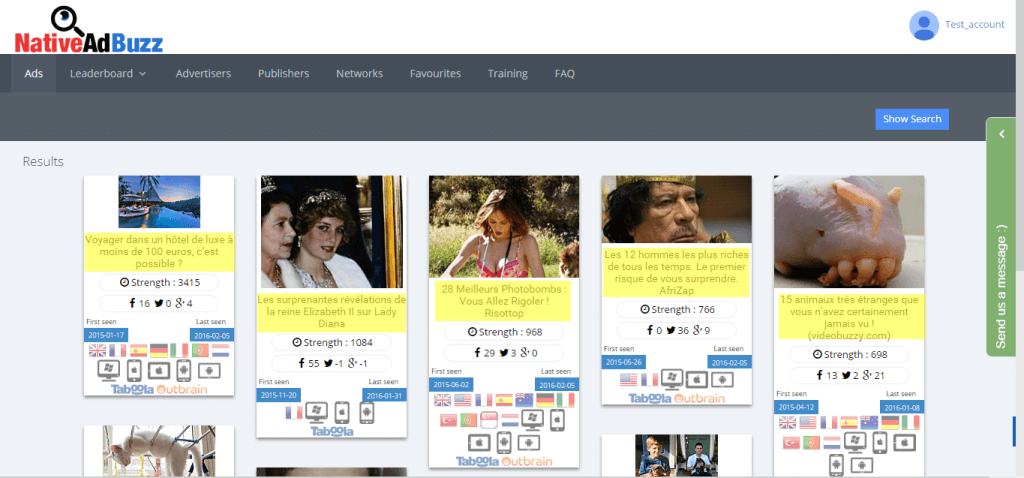 We've made it insanely easy for you to filter and organize native ads in 8 different languages, so that you can execute native ad arbitrage campaigns more easily.
Our Language Filter Gives Greater Advertising Intelligence To All
While this is still only the very beginning of the ad intelligence that NativeAdBuzz will offer you, we believe that the ability to filter by language is a great addition to your dashboard. This will help you build an even bigger and better online advertising businesses.
Because at the end of the day, you want to build the greatest native advertising business that you can as a strong native platform that's ahead of the game will keep your revenue flowing in, and will help you prepare for the future.
With smarter native ad intelligence products like our Language filter, you will now have access to viral native ads in a more organized and efficient way. Think shark hunting baby seal;)
Our ultimate goal is to help you run more profitable affiliate campaigns and media / arbitrage platforms, and this is another amazing tool that will help you on your journey towards building that super-valuable native advertising empire.
May the force be with you;)
Remember to sign up to NativeAdBuzz